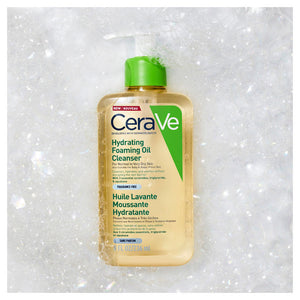 Normal to dry skin, baby skin, and allergy-prone skin.
Developed with dermatologists, CeraVe Hydrating Foaming Oil Cleanser gently cleanses and replenishes the skin's moisture levels for all day hydration. The ultra-mild foaming texture provides a gentle approach to cleansing, without drying out the skin. The transformation of oil to foam when lathered on the skin effectively removes excess dirt and impurities, without stripping the skin barrier, an ideal squalene cleanser formula for those with dry or sensitive skin.

Whilst naturally found in skin, the plant-derived qualities of squalene oil and triglyceride work to replenish the skin's surface after cleansing to provide long-lasting hydration. This squalene cleanser provides a nourishing touch, leaving the skin balanced, soft and smooth, while removing any form of tightness. A nourishing face wash for allergy-prone skin, this oil-based cleanser is non-comedogenic and contains no parabens or dyes, making it suitable for those with eczema prone skin.