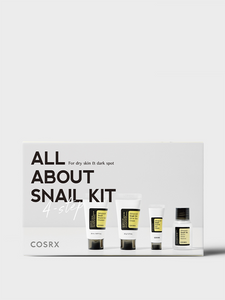 What it is:
COSRX's Most Loved 4-step Advanced Snail Trial Kit: Skincare essentials formulated with snail mucin for repairing, moisturizing, and soothing skin.
WHY IT'S SPECIAL:
Advanced Snail Mucin Gel Cleanser (0.67 fl.oz /20ml) - With 10,000ppm snail secretion filtrate, it protects the skin barrier and does not strip the skin. 
Advanced Snail 96 Mucin Power Essence (1.01 fl.oz / 30ml) - Lightweight yet intense moisturizing essence absorbs very fast into the skin and maximizes skin elasticity. 
Advanced Snail Peptide Eye Cream (0.16 fl.oz / 5ml) - Contains 72% of snail secretion filtrate and peptides to reduce dark circles, fine lines and wrinkles. 
Advanced Snail 92 All In One Cream (0.70 oz / 20g) - With 92% of snail secretion filtrate helps repair and soothe sensitized skin after breakouts by replenishing moisture